Please be advised that I'm about to add to the vast ecology of articles on the internet that discuss Harry Potter and Specifically Book 7. If you are likely to feel that this is a spoiler, then stop reading the internet and start reading the massively hyped book so you don't have to whine about the spoiler. Okay? Okay.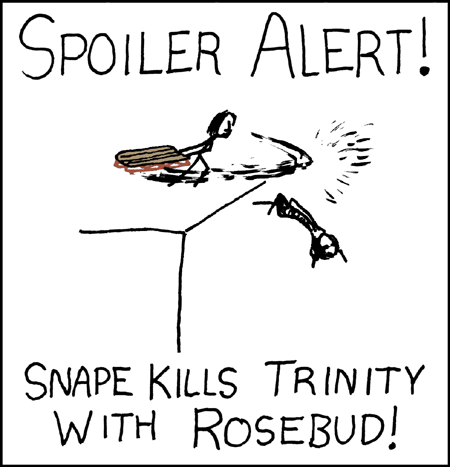 Like all the other screaming schoolchildren, I read Deathly Hallows early in July, and mostly enjoyed the read. It certainly made up for the almost pointless book six, in my mind, and I liked the sense of having progressed from the preparatory stuff to the end game. I have to admit, I mostly liked the end sequence, despite some really annoying bits about specific characters' brushes with death. But in the end, I wasn't satisfied, and I set it down figuring I'd just forget about it. Except I haven't forgotten about it, and today the lightbulb *finally* clicked. I know why I didn't like Harry Potter 7. It's that damned epilogue.

Not the fact that she has one, because really she needed that. But in going decades into the future, the author dropped one a fundamental piece of the story.

From the start, the books have been about Harry Potter and Hogwarts, his true home. Privet Drive was the unpleasantness before he could go Home, and take up this wonderful life that he'd never known he would have. Each book has been evolving his place in Hogwarts, but also marking his progress *through* the seven years of wizarding school.

Rowling isn't stupid. She understood that Hogwarts was important, or else the final battle would have been somewhere that offered more spectacle, like London-town perhaps. And it was right that the showdown should occur there, in the place that has been important to Harry and to his nemesis. But my big epiphany is that that she fumbled that thread at the end

When all the dust has settled, when this great distraction of his mortal battle with He-Who-Needs-A-Hairpiece is done, the story remains that of The-Boy-Who-Lived. And The-Boy-Who-Lived would have needed to put all the excitement away, and finish his final year of classes. Before the author flipped us twenty years ahead, I really think that she owed us the finish to Harry's story, which would have been his finish at Hogwarts. It offers a degree of closure and completeness that seems to be lacking from the implicit ending in the epilogue she did give us.

I'm a little staggered by the resonant righteousness of the idea. And I'm thrilled that I found this idea, because I can't articulate what, but it makes me feel like I've learned something important about story construction. Of course, that might just be my imagination, but at the least it's fun analysis.

Think about it, won't you? Yes you, the only person left still reading me. Harry should have gotten his moment on the podium, accepting his diploma with all his friends around him. Looking out into the new world, finally at peace, and in his proper place. Right? Am I wrong? Is Harry Potter and the Mid-Life Crisis a better close than Harry Potter and the Commencement Address?

You're all I've got, so I'm hoping you'll react. ;) Cheers.